Explore the world with us. Build meaningful relationships with Temple Israel clergy, create lasting friendships with other members, and experience our world through a Jewish lens.
NEW!

WOMEN'S MISSION TO EASTERN EUROPE

October 20-29, 2018

Join Rabbi Jen Lader and Rabbi Jen Kaluzny for Temple Israel's first Women's Mission to Eastern Europe, open to women in their 30s-50s. Explore Warsaw, Krakow, Budapest and Vienna with a wonderful group of like-minded women, build relationships to last a lifetime, and come on this adventure with us!

For more information, see our page on ARZAWorld.com or contact Rabbi Jen at 248-661-5700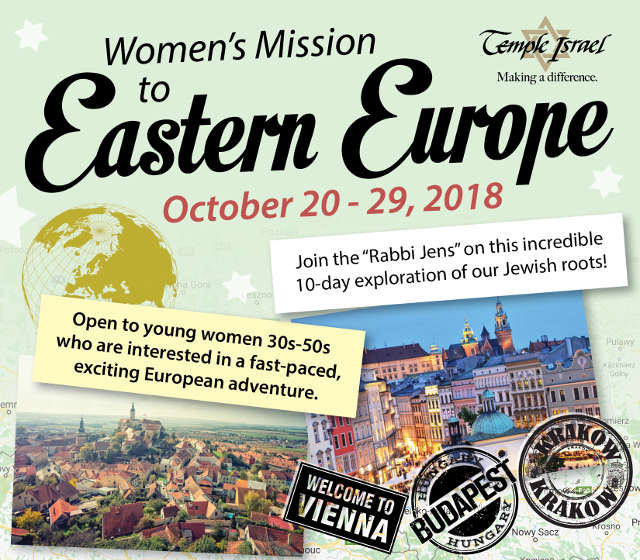 Teen Mission to Israel
June 25-July 20, 2018
Join Rabbi Jen Lader for the adventure of a lifetime, and spend the summer in Israel with 120 teens from Metro Detroit! Make incredible friends, explore the homeland of the Jewish people, learn, hike, eat, grow, pray, connect, and SO MUCH MORE.
Visit TeenMissionDetroit.org for more information about this incredible opportunity.
Tue, May 21 2019 16 Iyar 5779