We are sisters.
We care for each other, support each other, and are there for each other.
We are philanthropists.
We actively serve Temple Israel and our Jewish community through thoughtful fundraising.
We are leaders.
We run social and educational programming, community service events, and play a major role in the vision of the synagogue.
Contact Us
Email the Sisterhood President, Sari Roland:
Follow us on Facebook and Twitter for all the latest Sisterhood news and information.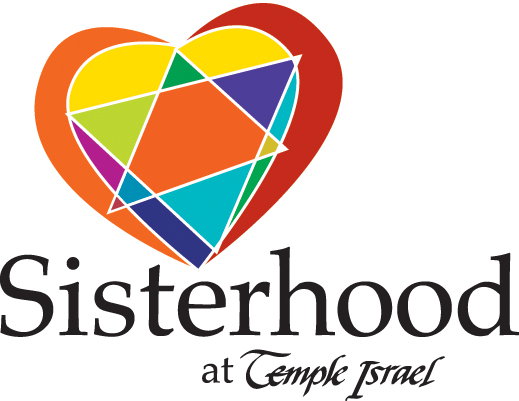 Join or Renew Membership
For more membership information and materials, email Lori Semel at .
Fulfill the Mitzvah of Mishloach Manot!
On Purim we emphasize the importance of Jewish unity and friendship by sending gifts of food to friends and family. We are excited to present you with a wonderful opportunity to fulfill this mitzvah.
Send delicious treats with your Purim greetings to your child's ECC Teachers & Staff, Temple Clergy & Staff or Family & Friends! Each recipient will receive a beautiful box of hamentashen, baked goods & other treats along with a lovely note including a list of those who have donated toward their gift.
Great way to thank those who work with your children & Temple and let family & friends know you are thinking of them at Purim! Choose the level of Participation that works for you.
ECC Teachers & Staff, Temple Clergy & Staff will receive their packages the week of March 2nd.
Give to family and friends by selecting the individual box option. Individual boxes will be available for pick up beginning March 2nd after 1pm.
Thank you for being a part of this meaningful fundraiser! Your participation allows us to continue to support our Temple, Youth and Community
Please order by February 24, 2020.
For questions contact Faye Krut at 248-432-7360 or
MISS CHOCOLATE PASSOVER CANDY SALE
Sisterhood's Passover chocolate tradition is back! We are pleased to offer Barton's Kosher for Passover candy and a second (non-Passover) catalog featuring "Gifts & Treats" for your kitchen and home. All are perfect for your own holiday table or as gifts.
Please order by March 1st. If you prefer to pay by check, forms are available in the Religious School office. Make checks payable to: Temple Israel Sisterhood and return orders to the Tyner Religious School office.
All purchases will be credited to our organization to help raise additional funds. As always, thank you for your support!
For questions, email Ann Podolsky at or call her at 248-722-4555
Tributes
Sisterhood is pleased to offer a choice of tribute cards to mark your special occasion or remember someone in a time of need. In addition, recipients of tribute contributions of $50 or more will now receive a beautiful certificate letting them know of your generosity.
NEW! Purchase Tributes Online >
To purchase Tributes by phone, call Jodie Polk at 248-624-9594
To purchase Tributes by mail (coming soon)
A special thank you to Jessica Polk for the beautiful tribute card photographs.
A Year of Flowers Fundraiser
What better gift than A Year of Flowers!
Help brighten someone's day by participating in our Year of Flowers fundraiser. For only $35 (a one-time charge per gift), they will be able to pick up a fresh cut bouquet or potted plant once a month for a year.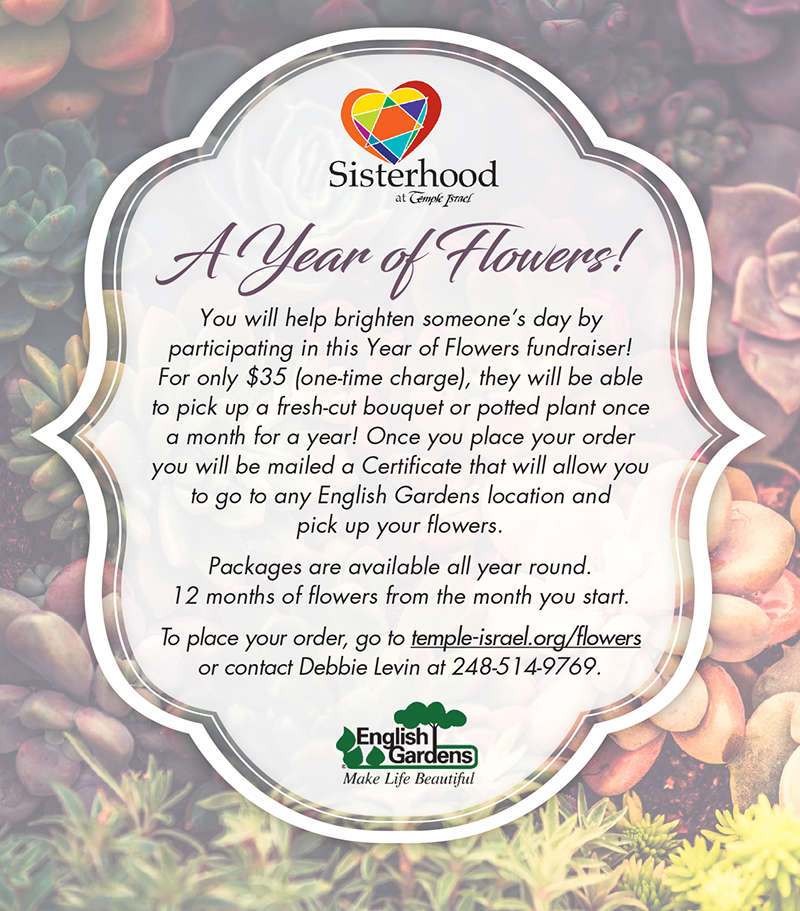 Gift Shop
Sisterhood runs Temple Israel's gift shop, staffed by our own volunteers. In our gift shop you'll find beautiful pieces of Judaica, artwork and ritual objects, jewelry, and other gifts. It's a great place to buy a tallit for a bar or bat mitzvah, a mezuzah for a new home, or colored glass for a wedding. Our wonderful volunteer staff is happy to help you find just what you're looking for.
Hours
Monday: 3 PM - 6 PM
Tuesday: 11 AM - 2 PM
Thursday: 3 PM - 6 PM
Sunday (when Religious School is in session): 9:30 AM - Noon
Special appointments are available. Please contact one of our helpful gift shop chairs for assistance. Call or text Debbie E. at 248-496-4525, Debbie F. at 248-227-2146 or Mary Lou at 248-875-1595.
Monthly Specials
(Excludes special orders)
February: 30% off Tzedakah Boxes
Business Forms
Are you planning a program or have you laid out money for Sisterhood? If so, you might need the following forms:
Click to open and download them.
Sat, February 22 2020 27 Sh'vat 5780