We are sisters.
We care for each other, support each other, and are there for each other.
We are philanthropists.
We actively serve Temple Israel and our Jewish community through thoughtful fundraising.
We are leaders.
We run social and educational programming, community service events, and play a major role in the vision of the synagogue.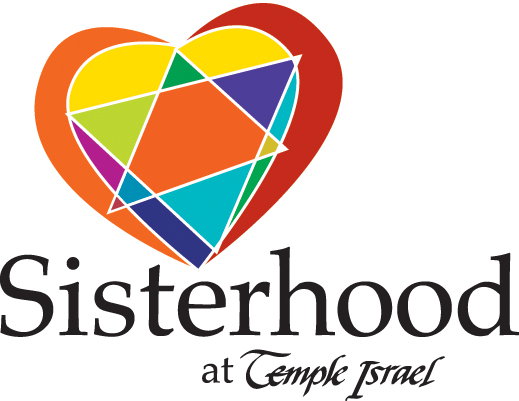 Join or Renew Membership
For more membership information and materials, email Lori Semel at .
Oy Vey! The Holidays are Coming
2019 Wellness Day
Thursday, November 21, 2019 at 10 AM - 2 PM
Learn simple tips and techniques to make the holidays less stressful! Please bring a healthy recipe to share. Enjoy a healthy holiday cooking demonstration and more!
More Info:
$18 for Sisterhood Members | $25 for Non-Members
Henry Ford West Bloomfield Hospital, 6777 W. Maple Road
Questions? or call 248-505-6497
Winter Boutiques
WEDNESDAY DECEMBER 11, 2019 | 10 AM – 3:30 PM at TEMPLE ISRAEL
Join Sisterhood for a day of shopping just in time for the holidays !
Pop Up Boutiques with a large variety of vendors to accommodate everyone on your gift list!
Light snacks and refreshments will be available.
For more information, contact Andi Weiss at
Road Trip to Creative Arts Studio
Join us for a fun time as we paint Judaica items in time for the holidays!
Members $15 + cost of item you paint | Non-Members $20 + cost of item you paint
Menorah $29 | Dreidel $11 | Mezuzah $11 | Star of David Box $16.50
Price includes, snacks, wine & painting materials. Must register by December 2nd to attend.
Items will be kilned and available for pickup at either Temple Israel or Creative Art Studio.
Questions? Contact Shellie Achtman at shellietisisterhood@gmail.com or 248-505-6497
New year Bingo Bash
Thursday, January 9, 2020 at Temple Israel
6:00 PM - Doors Open and Dinner ($15 in advance, $18 at the door)
6:45 PM - Early Bird Game
7:00 PM - General Game
$30 in advance, $36 at the door (includes 6 cards good for all general games & light munchies, additional cards & supplies available for purchase)
Open to the community, must be 18 years of age to play.
Tributes
Sisterhood is pleased to offer a choice of tribute cards to mark your special occasion or remember someone in a time of need. In addition, recipients of tribute contributions of $50 or more will now receive a beautiful certificate letting them know of your generosity.
NEW! Purchase Tributes Online >
To purchase Tributes by phone, call Jodie Polk at 248-624-9594
To purchase Tributes by mail (coming soon)
A special thank you to Jessica Polk for the beautiful tribute card photographs.
A Year of Flowers Fundraiser
What better gift than A Year of Flowers!
Help brighten someone's day by participating in our Year of Flowers fundraiser. For only $35 (a one-time charge per gift), they will be able to pick up a fresh cut bouquet or potted plant once a month for a year.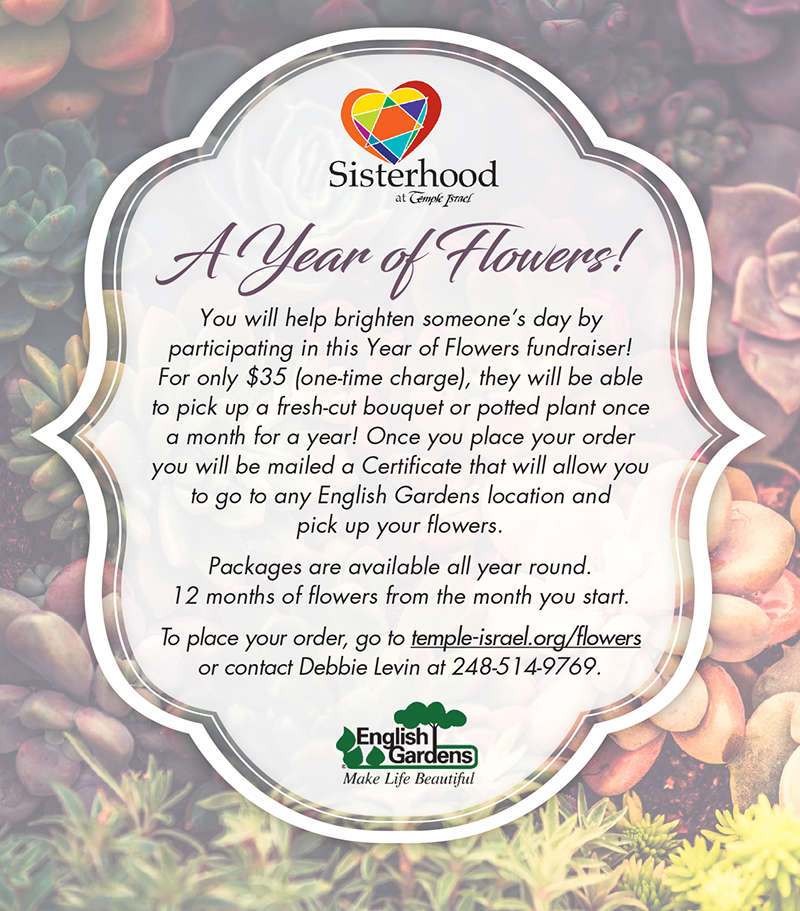 Gift Shop
Sisterhood runs Temple Israel's gift shop, staffed by our own volunteers. In our gift shop you'll find beautiful pieces of Judaica, artwork and ritual objects, jewelry, and other gifts. It's a great place to buy a tallit for a bar or bat mitzvah, a mezuzah for a new home, or colored glass for a wedding. Our wonderful volunteer staff is happy to help you find just what you're looking for.
Hours
Monday, Tuesday, Thursday: 3 - 6 PM
Sunday (when Religious School is in session): 9:30 AM - Noon
Special appointments are available. Please contact one of our helpful gift shop chairs for assistance. Call or text Debbie E. at 248-496-4525, Debbie F. at 248-227-2146 or Mary Lou at 248-875-1595.
Monthly Specials
October: Menorahs

are

30% off!
Business Forms
Are you planning a program or have you laid out money for Sisterhood? If so, you might need the following forms:
Click to open and download them.
Wed, November 20 2019 22 Cheshvan 5780