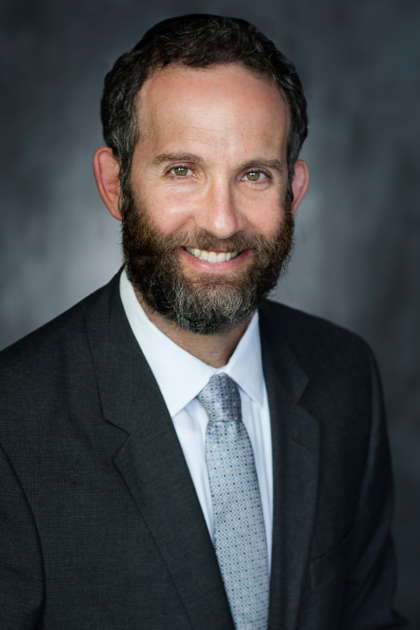 Cantor Michael Smolash sits proudly in the Stephen Gottlieb z"l Cantorial Chair at Temple Israel, where he has served since 2004. Along with our amazing clergy team, he has helped craft one of the most vibrant Jewish worship programs in North America, with Friday night services that have attracted 1000 congregants or more each shabbat over the summer. Michael has coproduced three albums of Temple Israel's music, which are available wherever you listen. As a composer, Cantor Smolash's material has been featured on the Union for Reform Judaism's Ruach series, as well as on the Songbook for Kabbalat Shabbat at multiple URJ Biennial Conventions, and Merri Arian's new songbook Leveling the Praying Field. Michael has also been a pioneer of the use of Youtube videos for synagogue outreach. As director, Cantor, producer, or music director, he has created an online video presence for Temple with well over a million views.
Cantor Smolash is also a student of Australia's Rabbi Dr. Laibl Wolf, one of the foremost teachers of kabbalah today, and teaches classes and individual learning on the mystical aspects of Judaism for progressive communities. Along with teaching across the full Temple Israel community, his lecturing engagements on kabbalah include Henry Ford Hospital's Provider Health Summit, Jewish Federation's JLearn, the Legacy Heritage OnBoard program, the Interfaith Leadership Council, and Camp George in Ontario. Cantor Smolash's classes, Intro to Kabbalah and User's Guide to the Soul are available at Temple Israel's YouTube page.
Before arriving at Temple Israel, Michael worked in Music Theatre across Canada for 15 years while also serving as Chazzan Sheini at Holy Blossom Temple (Toronto). His roles included Sparky in Forever Plaid, Billy Lawlor in Forty Second Street, and Matt in The Fantasticks. Cantor Smolash was called to Temple Israel's pulpit while a member of the Toronto cast of The Producers, where he covered the lead role of Leo Bloom, as well as those of the entire male cast of singers, actors and dancers. He is a proud member of the American Conference of Cantors, the Canadian Actors' Equity Association, and the Association of Canadian television and Radio Artists, and has served as president of the Michigan Board of Cantors. He also produced and directed the Michigan Board of Cantors' annual Stephen Gottlieb concerts from their launch for five consecutive years, with a sold out theater every performance.
Michael was honored by being invited to lead Friday night services at the Biennial Conference for Reform Judaism in 2009 in Toronto – one of the largest gatherings of Jews in North America. In addition, Michael has lectured on recording a congregational CD for the American Conference of Cantors.
On the concert stage, Michael is a sought after artist both for new commissions and gala musical events. He has premiered several new works for voice and orchestra by Stephen Glass at the historical Congregation Shaar Hashomayim in Montreal. He also created the role of Cham in The Flood According to Cham by Broadway legend Gershon Kingsley, and the role of King David in a new oratorio by Eyal Bitton. Michael was featured in an evening with Charles Strouse, composer of Annie, where he sang the premiere of Charles' new composition, Jerusalem. He was also a featured soloist with the Detroit Symphony Orchestra in their performance of Liberation by Meir Finkelstein.
A proponent of contemporary Jewish music in the shul, Michael created WJEW: the first twenty-four-hour synagogue internet radio station. With listeners in over twenty countries, WJEW was featured as an "Achiever and Exemplar" in Reform Judaism magazine. Students at the station interviewed some of the most influential Jewish personalities in North America, including Rabbi Shmuley Boteach (TLC's Shalom In the Home), recording artist Matisyahu, and Rabbi Paul Yedwab (author of Sex in the Texts). Michael is married to Dr. Jen Green, a naturopathic doctor and published researcher. They have two amazing children, Ayla and Cedar.
To learn more about Cantor Smolash, please visit his website at www.MichaelSmolash.com
Thu, December 7 2023 24 Kislev 5784