We are sisters.
We care for each other, support each other, and are there for each other.
We are philanthropists.
We actively serve Temple Israel and our Jewish community through thoughtful fundraising.
We are leaders.
We run social and educational programming, community service events, and play a major role in the vision of the synagogue.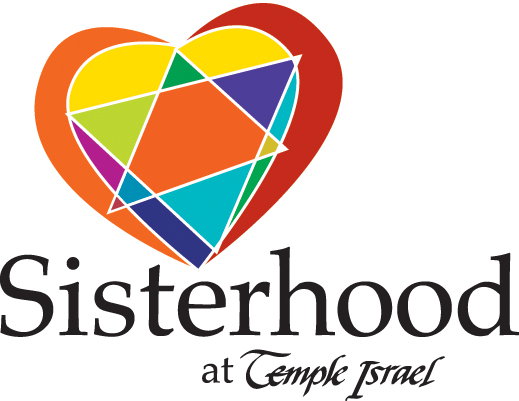 Join or Renew Membership
For more membership information and materials, call Michelle Silber at 248-909-8742 or email her at .
Organizing for Real
March 2019 Meeting - 7:00PM 3/26/19 at Temple Israel
If your home or office is disorganized, or you have piles of things everywhere, then you have clutter. Come hear Kimber Dorton of KD Clutter Busters share tips and hacks to organize your space!
Cost: $18 per Members, $25 per Non-member
New members are invited as our guest at no charge!
Light snacks and desserts will be served
Please register by March 19th
Questions? Contact Linda Sherr at actiontours765@gmail.com or 248-880-4227
Women's Freedom Seder
Tuesday, April 9, 2019 • 6 pm at Temple Israel
Led by Temple Israel Clergy and Sisterhood Members
Our Passover Seder explores the ancient story of the Israelites exodus from slavery in Egypt. Its message of freedom speaks to people of all faiths. Most importantly, the seder acknowledges that in many ways, we are still not free. Each year, we have chosen a theme to explore along these lines.
This year, we hope you will join us for a thought-provoking exploration of how so many of our brothers and sisters are slaves to opioid addiction. We will hear from an expert in the field of addiction and recovery, a personal account, and move through the seder holding onto the hope that just as our ancestors journeyed from slavery to freedom, those struggling today, we pray, will also make their way to freedom from the affliction of addiction.
Open to the community • $25 per person • RSVP by April 3rd
Questions? Contact Gail Katz at 248-978-6664 or
Spring Boutiques
Sunday, April 28, 2019, 9:30 am - 3:30 pm
Spring is in the air! That means it's time once again for Temple Israel Sisterhood's Spring Boutiques. For your shopping pleasure we will have an outstanding selection of boutiques & delicious snacks all day in our Cafe.
We are asking for your support with a $36 donation that entitles you to 12 admission tickets plus a gift card to Johnny Pomodoro's. Your generosity and loyalty continue to make this a successful fundraiser for camp scholarships, social action projects and Temple requests.
Election Meeting and Luncheon
12 pm on Tuesday, April 30, 2019 at Temple Israel
Join us as we elect our new board, enjoy a delicious lunch and laugh out loud in this hilarious original Sisterhood production.
The cost is $24 each for Sisterhood members, $30 each for non-members. Please RSVP by April 24, 2019.
Questions? Contact Linda Sherr at 248-880-4227 or
Tributes
Sisterhood is pleased to offer a choice of tribute cards to mark your special occasion or remember someone in a time of need. In addition, recipients of tribute contributions of $50 or more will now receive a beautiful certificate letting them know of your generosity.
NEW! Purchase Tributes Online >
To purchase Tributes by phone, call Jodie Polk at 248-624-9594
To purchase Tributes by mail (coming soon)
A special thank you to Jessica Polk for the beautiful tribute card photographs.
A Year of Flowers Fundraiser
What better gift than A Year of Flowers!
Help brighten someone's day by participating in our Year of Flowers fundraiser. For only $35 (a one-time charge per gift), they will be able to pick up a fresh cut bouquet or potted plant once a month for a year.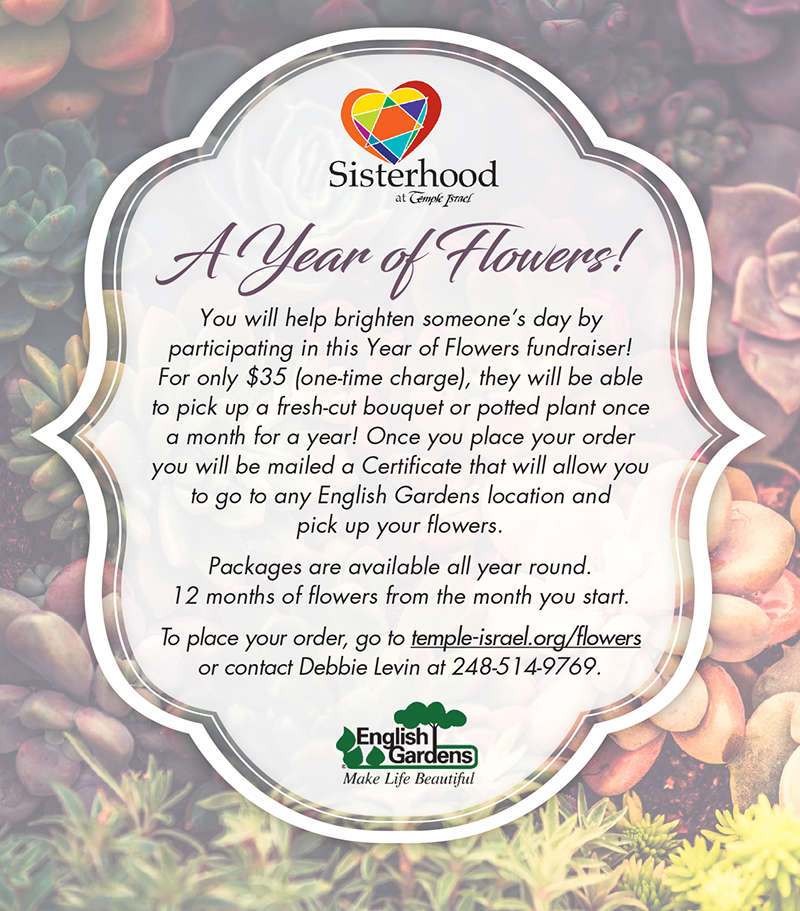 Gift Shop
Sisterhood runs Temple Israel's gift shop, staffed by our own volunteers. In our gift shop you'll find beautiful pieces of Judaica, artwork and ritual objects, jewelry, and other gifts. It's a great place to buy a tallit for a bar or bat mitzvah, a mezuzah for a new home, or colored glass for a wedding. Our wonderful volunteer staff is happy to help you find just what you're looking for.
Hours of Operation
Sunday: 9:30am - Noon (Religious School days)
Monday: 3pm - 6pm
Thursday: 3pm - 6pm
Special appointments are available. Please contact one of our helpful gift shop chairs for assistance. Call or text Debbie E. at 248-496-4525, Debbie F. at 248-227-2146 or Mary Lou at 248-875-1595.
Monthly Specials
March

: 30% off Seder Plates!
Business Forms
Are you planning a program or have you laid out money for Sisterhood? If so, you might need the following forms:
Click to open and download them.
Tue, March 26 2019 19 Adar II 5779