We are sisters.
We care for each other, support each other, and are there for each other.
We are philanthropists.
We actively serve Temple Israel and our Jewish community through thoughtful fundraising.
We are leaders.
We run social and educational programming, community service events, and play a major role in the vision of the synagogue.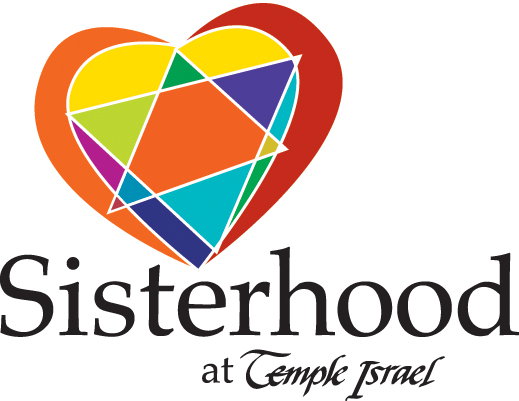 Join or Renew Membership
For more membership information and materials, email Lori Semel at .
Mah Jongg Tournament
Monday, August 19, 2019, 6:45 PM sharp (Registration opens at 5:30 PM)
Please join us for our Summer Mah Jongg Tournament!
Bring your own Mahj set
Come alone or bring your Mahj group
$25 per person, pre-registered | $30 per person, at the door
Cash prizes and marvelous munchies included
Dinner (optional) $15 per person
Walk-ins are welcome (latecomers will be placed wherever there is room)
Limited to the first 200 players
Questions? or call her at 248-821-9605
Join Sisterhood for a 'Big Dill' of a day!
Tuesday, September 17, 2019, 10:30 AM to 2:00 PM
We'll make Kosher dill pickles and take a tour of the greenhouse and food pantry at Yad Ezra, then have a delicious family-style lunch at Peking House.
10:30 AM at Yad Ezra (2850 W. 11 Mile Road, Berkley)
12:00 PM at Peking House (215 S. Washington Avenue, Royal Oak)
$30/Sisterhood Member; $40/Non-member
Space is limited. Please RSVP early to ensure your spot.
Fall Retreat
October 25-27, 2019
Butzel Conference Center, Camp Tamarack
Treat yourself to a relaxing, fun retreat shared with friends and clergy. Please join with our sisters as we Raise Our Voices together for this Shabbaton retreat. The book selected for our group discussion is Gateway to the Moon by Mary Morris. It is available to check out from Temple Israel's library and for purchase through AmazonSmile.
Price includes lodging, meals and supplies.
$275 Early Bird (extended through July 15th!) | $300 July 1-October 1 | $325 after October 1 (if room allows)
Add $150 to total cost if choosing a single room
Prices are per person. Space is limited.
For more information, email Deb Schiffer at or call 248-568-7576.
HONEY FOR THE HOLIDAYS
What better way to wish family, friends and business associates a "Sweet and Healthy New Year" than sending a jar of honey?
Ship a festive 8 oz jar of 100% pure Kosher Honey anywhere in the world for only $12 including shipping (free shipping ends 8/5/19). Ordering is quick and easy, just visit www.orthoney.com/tis and enter group code "TIS" when prompted.
For more information contact Linda Feldman at 248-561-0736 or or Barbara Horenstein at 248-330-7980 or
Tributes
Sisterhood is pleased to offer a choice of tribute cards to mark your special occasion or remember someone in a time of need. In addition, recipients of tribute contributions of $50 or more will now receive a beautiful certificate letting them know of your generosity.
NEW! Purchase Tributes Online >
To purchase Tributes by phone, call Jodie Polk at 248-624-9594
To purchase Tributes by mail (coming soon)
A special thank you to Jessica Polk for the beautiful tribute card photographs.
A Year of Flowers Fundraiser
What better gift than A Year of Flowers!
Help brighten someone's day by participating in our Year of Flowers fundraiser. For only $35 (a one-time charge per gift), they will be able to pick up a fresh cut bouquet or potted plant once a month for a year.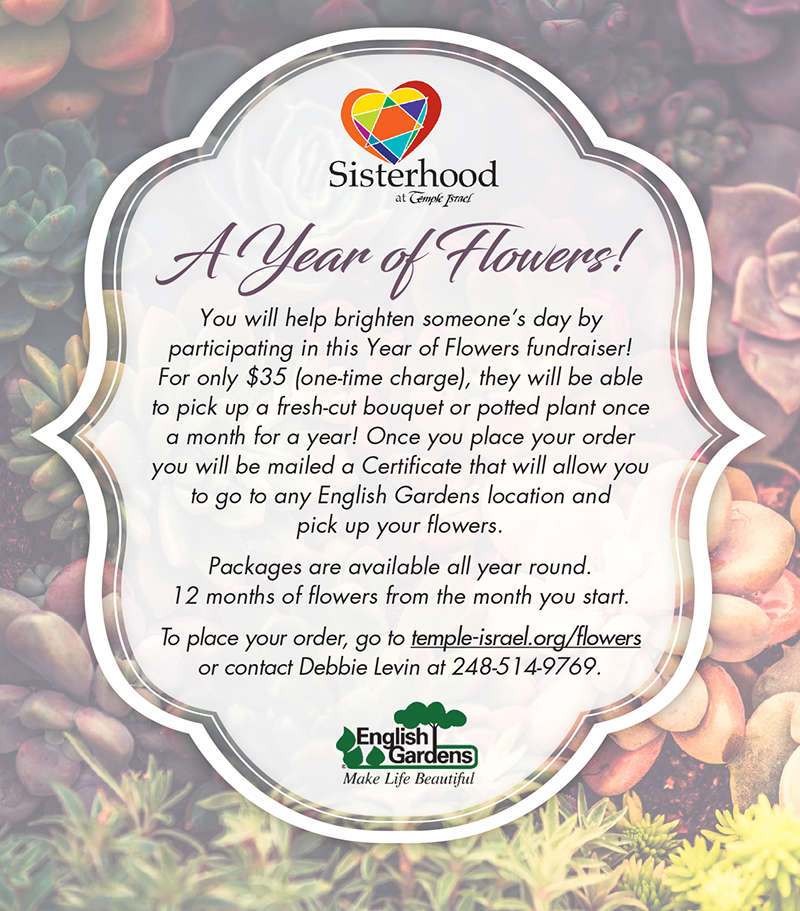 Gift Shop
Sisterhood runs Temple Israel's gift shop, staffed by our own volunteers. In our gift shop you'll find beautiful pieces of Judaica, artwork and ritual objects, jewelry, and other gifts. It's a great place to buy a tallit for a bar or bat mitzvah, a mezuzah for a new home, or colored glass for a wedding. Our wonderful volunteer staff is happy to help you find just what you're looking for.
Summer Hours
Special appointments are available. Please contact one of our helpful gift shop chairs for assistance. Call or text Debbie E. at 248-496-4525, Debbie F. at 248-227-2146 or Mary Lou at 248-875-1595.
Monthly Specials
Business Forms
Are you planning a program or have you laid out money for Sisterhood? If so, you might need the following forms:
Click to open and download them.
Wed, July 17 2019 14 Tammuz 5779