l'Shana Tova!
All of our High Holy Day services and other programs this year (2020/5781) are being streamed online and everyone can view them. If you need assistance watching, we're here to help! Below, we've answered some commonly asked questions, and provided some additional helpful tips, to ensure you have an easy and enjoyable virtual High Holy Day experience.
Do I need to be a member to Watch?
This year (2020/5781) all of our services are online and everyone in the world can watch! You don't have to be a member or have an account; just internet access.
Can I get a Prayer book to Follow along?
This year's virtual services have been designed in a way that prayer books are not necessary, however you can still follow along should you already have your own Gates of Repentance prayer book. We have books available for $20 if you would like to purchase your own. Please call Joan Bobee at 248.661.5700 to arrange a pick up at Temple.
Where Can I Find the Schedule of Services?
You can find the schedule of services, educational programs and everything else HHD related on our special HHD 2020 landing page.
You can also get to the schedule by clicking the HHD links on our home page, as shown below: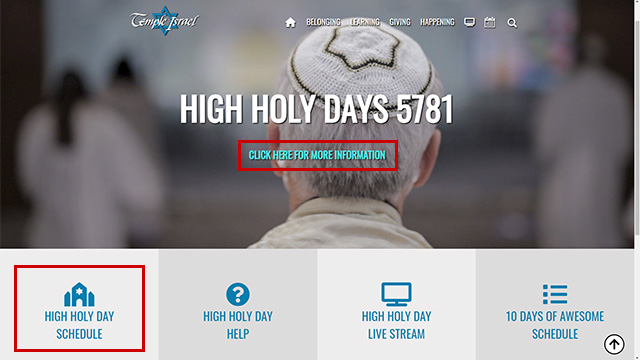 Where Can I Watch The Services?
The day of the service or program, a few minutes before the start time, find a comfortable spot in your home. Make sure your computer, laptop, tablet, or smartphone is connected to the internet and go to temple-israel.org/hhd. You will be streaming video to your device, so you might want to use your Wi-Fi for an internet connection instead of your data plan if you can.
Find the service or program you wish to view on our High Holy Days website. Below the description for each service, you will see several colorful buttons that say FaceBook, YouTube, Website, etc. (Samples of these buttons are below.) These buttons indicate the various platforms you can use to watch this service.
For each service, select the platform with which you are most comfortable, and click the related button. A new window will open, and at the published start time, the service will begin.
Bloomfield Community Television (Cable)
Some services will also be broadcast on Bloomfield Community Television's cable channels. According to BCTV's website, programs are available as follows:
Bloomfield Township and Bloomfield Hills: Comcast Channel 15
Birmingham, Beverly Hills, Franklin and Bingham Farms: Comcast and WOW Channel 18 and on AT&T's U-verse on channel 99.
For more information about availability, please see the BCTV website. To see the schedule, please visit our High Holy Day page.
should i use facebook? youtube? the website?
For your convenience, many of our services and programs will be available on several platforms. Choose the one most familiar to you. Some tips are below, and remember, you can find convenient links to the individual programs on each of these platforms on our High Holy Day page. You can watch any service at its scheduled time on Facebook, YouTube or our website. You can also watch any service after that on Facebook or YouTube.
Facebook
Enter www.facebook.com/templeisraelmi/live into your web browser.
When programming begins, a video that says "Live" in red will appear. Click on "Live" and the video will start.
Facebook lets you interact with clergy and others watching the service online through "likes" and comments.
A Facebook account may be required.
YouTube
Click on the video you want to watch. If the video has not yet started, you may see a temporary placeholder image.
YouTube often includes advertisements. Temple Israel has no control over these or their content.
Zoom
A few adult education classes and programs will be offered via Zoom. These require advance registration. You will receive an email with a link to use to access the class on Zoom. Register or learn more about these classes here.
If you already have the Zoom app downloaded on your device:
Click on the Zoom hyperlink included in your registration confirmation email.
A new page will appear with a pop-up box that says "Open Zoom."
Click on "Open Zoom," and the meeting will appear.
WHY ISN'T THE VIDEO FOR THE SERVICE PLAYING?
Videos for services will begin at the published start time. If it is before the start time, you will not be able to see the video.
If one platform isn't working for you, consider trying another. For example, if you are having trouble watching on Facebook, try viewing via YouTube or the website.
we missed the service. now what?
All programs and services will be available at the published start time. After the service is complete, you can watch it whenever you like on Facebook or YouTube simply by clicking the same button on our HHD page. You'll also be able to Fast Forward, Rewind, Pause, etc.
ARE ANY SERVICES in-person this year?
Due to the COVID-19 pandemic, we are unable to offer in-person High Holy Day services this year. The good news is that all of our services will be online for your to watch whenever you like. There is one exception. We are holding a socially-distanced Family Tashlich event at Temple. This program will be outdoors, the number of participants is limited, and pre-registration is required. Register or learn more about this program here.
I Still Have Questions
Need more help or have an additional question we've not answered above? Contact our High Holy Day Help Desk at 248-661-5700 or email us at info@temple-israel.org.
Help Desk hours during the holidays are as follows:
Erev Rosh Hashanah: 5:00pm - 9:00pm
Rosh Hashanah Day: 9:30am - 5:30pm
Kol Nidre: 4:00pm - 9:00pm
Yom Kippur: 9:30am - 8:00pm
Mon, January 25 2021 12 Sh'vat 5781