Cooking with Chef Carole
Cardamom Brown Butter Banana Bread
| | |
| --- | --- |
| Author | |
| Date Added | |
| Automatically create summary | |
| Summary | |
Prep Time: 15 Minutes
Cook Time: 1 Hour
Yield: 1 double loaf
Total Cost: About $5.00
This is my favorite bread to use for bread pudding and when it gets a bit dry I like to turn it into French toast. The best way to serve it is to toast the slice and slather peanut butter and fresh bananas on top! Take note, I add a little extra flour to mine because I like it to be more of a dense bread texture. If you like it to be softer just reduce by 1 cup of flour.
= Make it vegan with these substitutions!
Wet Ingredients
4 cups
Mashed overripe bananas
1.5 sticks
Salted butter, melted on low heat
1 cup Smart Balance
3 each
Large eggs
3 Tbsp. Powdered egg substitute
1 cup
Agave nectar
1 tsp.
Real vanilla extract
Dry Ingredients
2 tsp
Baking powder
1/2 tsp.
Baking soda
1 tsp.
Ground cardamom
1 tsp.
Kosher salt
3 cups
All-purpose flour
1.5 cups
Chopped almonds
1.5 cups
Dark chocolate chips
Make sure they do not contain milk solids
Directions
Pre-heat your oven to 350 F degrees. I bake my banana bread in a 7"x 9" wide Pyrex dish, but you can always use to small loaf pans if that's what you have! If you do use smaller loaf pans, decrease your time by approximately 15-20 minutes.
Skip this step Warm your butter on very low heat and let it bubble, scraping with a rubber spoon or spatula every minute or so to keep the butterfat from getting too dark. The process of brown butter is the separation of the butterfat and the milk solids, which in turn sink to the bottom of your pan and turn brown, giving it a nice rich deep caramel flavor.
Most banana bread recipes call for creaming your butter and sugar, but since I like to use agave because it's low glycemic and I love the flavor of brown butter, I mix all of the wet ingredients thoroughly without the creaming process.

Combine the bananas, brown butter while still warm (or Smart Balance), eggs (or egg substitute), agave & vanilla. Mix well!

Sift in your flour, baking soda, baking powder and mix well. Be careful not to overmix as you don't want to work up the gluten.

Finally, add the chopped almonds and chocolate, folding in carefully. You're ready to pour your batter into your baking pan!
I like to put foil on the top of my bread so it retains the heat evenly and doesn't pop up and burst in the middle. It also will keep it from browning too quickly before cooking thoroughly in the middle.
My loaf took 1 hour and 25 minutes in the oven. Once you've pulled it out, let it rest on the counter for 5-10 minutes and then pop it out on a cutting board. Let it cool and then wrap well with film wrap. You can leave this out on the counter and it will stay moist, rather than putting it in the refrigerator.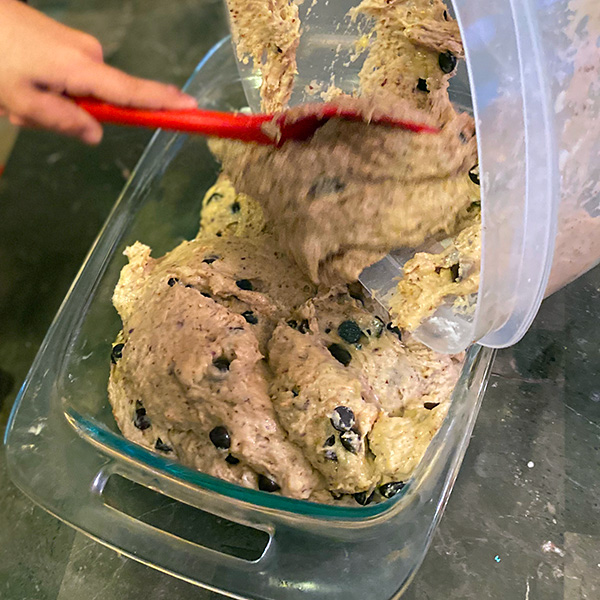 Sat, April 10 2021
28 Nisan 5781
Recipes
More coming soon!
Sat, April 10 2021 28 Nisan 5781